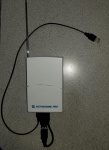 I'm fairly new to using Home Genie and my setup is rather small but I run HG in to separate locations now.
My quest for a low power PC to rum my Automation at my off grid Cabin (solar power only) made me look at using a PI and HG.
With the price of the Pi dropping and the size of the new Zero W board I Though about combining the Zero W with my CM15A as it turns out it fits nicely inside the cm15 with the battery compartment removed. Actually only half need be cut away. a full write up with pics can be found here:
http://forums.tuicemen.net/index.php?topic=1291.0
My setups are mostly X10 thus the CM15A mod.
I do have other protocols in use in my city place where this CM15A mod is running.
My off grid place required a more powerful PI so I went with the 3B+ which is to big to fit inside the CM15A.